Do you feel nervous about your Cambridge Interview?
Are you worried that your mind will go blank and you won't know what to say?
Or that the interviewers will ask a question that seems impossible?
It is very clear from our experience that there is a vast discrepancy in the amount of preparation candidates do before their Cambridge interview. Some schools are very experienced with applications to Cambridge and provide a great amount of support to applicants. However the majority of schools are not familiar with the process, leaving their students at a huge disadvantage.
Every year we hear from students that they are most apprehensive about the interview. We specialise in preparing students for their Cambridge interview: improving their confidence, speaking and ability to give strong answers under pressure.
We offer a range of free and premium services to give you the best chance of getting into Cambridge; click below for further details.
---
General Interview Guide
Why are you sitting in this chair?
If you were in my position, would you let yourself in?
What would you do with a million pounds?
With so many applicants with great grades, these questions provide the perfect opportunity for you to demonstrate your personality, creativity and thinking ability.
Every year we hear from students trying to prepare who have no idea where to start with these types of questions and what would sound like a strong answer.
In response a team of Cambridge and Oxford graduates have worked to put together"Cambridge Interview Guide – The General Interview". Download a sample page here.
Click the button below to receive your Cambridge Interview Guide right now!
This guide is now available to download: The Cambridge Interview Guide
---
Subject Interview Guides
Our Subject Interview Guides help you to prepare and go into your interview with confidence.
Each guide discusses ten Cambridge Interview Questions in depth with answers and approaches – along with possible points of discussion to further demonstrate your knowledge. They have been specially edited for applicants for each subject by a team of Oxford and Cambridge graduates.
Download a sample page from our Physics Guide here.
Please Note: Other subjects will be available shortly – please enter your email below to receive a notification when your subject guide is available for download.
Click below to receive your Cambridge Interview Guide right now and you'll be sent it in PDF format by email the same day so you can begin your preparation right away.
Click the button below to receive your Cambridge Interview Guide right now!
---
The Cambridge Interview Guide – Economics
---
 The Cambridge Interview Guide – HSPS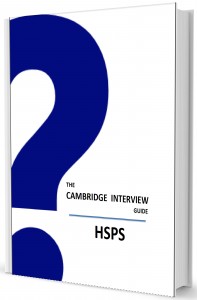 ---
The Cambridge Interview Guide – Chemistry 
---
The Cambridge Interview Guide – Physics 
---
The Cambridge Interview Guide – Chemistry AND Physics 
---
Special Offer: Get both the Biology and Chemistry guide together for a discounted price!
The Cambridge Interview Guide – Natural Sciences (Biological)
---
The Cambridge Interview Guide – Medicine
---
"At first I was unsure how this guide could help – but I realised that my school teachers had no idea about what I might be asked and how I could deal with it.
I found the Interview Guide really useful to prepare – I had a much better idea of the way interviewers ask their questions; and the fact that they are more interested in my thought process than the exact answer.
I certainly felt a lot more comfortable going into interview."
Thomas, 1st Yr Natural Sciences, Trinity College
"As an international student from China, I was very worried for my interview because of my English. The guide is helpful because it is very difficult to find any information in China and I could receive the Physics guide by e-mail. It was very useful to help me think about what I might be asked, and also how I should  answer – to demonstrate how I think rather than be quiet, and to show my enthusiasm and interest. Which is very different to how we are taught in China, so it is certainly very helpful for me!"
Yiang Chen, 3rd Yr Physics, Jesus College
"My grades weren't all A*s, I went to a bog-standard northern comprehensive and I wasn't on any sports teams or in any orchestras! Originally I wasn't going to apply to Cambridge – especially as my teachers had no idea and gave me no help. So I didn't rate my chances at all. The thing that terrified me most was the idea that I was going to have sit in front of some Einstein professor who asked me totally impossible questions
But I figured I might as well give it a go. I used a few different websites to prepare – and the Cambridge Interview Guide was really helpful in preparing in the weeks leading up to the interview.
It's true what the guide says – that it didn't matter about my background or the grades I got in other subjects, and that the interviewers were interested in my interest and passion for Economics."
Rebecca, 2nd Yr Economics, Downing College
---
Personal Statement and Application Review
Are you finding it difficult writing a great personal statement? 
Have you run out of ideas of how to telegraph your enthusiasm and passion for your subject?Are you worried that an area of your personal statement might be picked on at interview? 
Getting your Personal Statement right is essential to securing your interview. Our Personal Statement Review will provide an objective and informed opinion of your statement as it currently stands.
Let our Cambridge experts review your personal statement for 24 hours before providing constructive feedback and valuable improvements via a 45 minute Skype consultation – allowing you to discuss your application and have your questions answered, as well as a written report.
The written report will provide pointers on areas where you can improve your statement, as well as providing a list of potential Interview questions which could arise based on your personal statement.
Contact us now to schedule your Personal Statement Review and consultation.
---
Interview Preparation Sessions
Do you feel that you aren't ready for your interview? Do you have no idea what to expect?
Our Interview Preparation session prepares students to talk about and discuss their subjects with confidence – as well as suggesting questions and readings beyond the syllabus. These sessions work on the skills required for a successful interview.
This service is available both in person and online via Skype.
Contact us now to schedule your Interview Preparation Session.
---
Mock Interviews
Our Mock Interview service gives you an opportunity to experience what to expect from your subject or general interview, as well as to receive objective feedback.
The session lasts one hour, the first 30 minutes of which takes the form of a one-to-one, subject specific mock interview, followed by a 30 minutes of feedback and discussion.
The feedback will give you a better idea of your strengths. We will discuss your application with you, and how best to prepare for your interview – including reading suggestions. The discussion session also gives you an opportunity to ask any questions about the course and life at Cambridge.
The Mock Interview session is available both in person and online via Skype.